About Us
At Home Health Care & Hospice
has a primary goal to be the provider of choice for home care services, skilled nursing, physical and occupational therapy, speech language pathology, home health aide and medical social work services.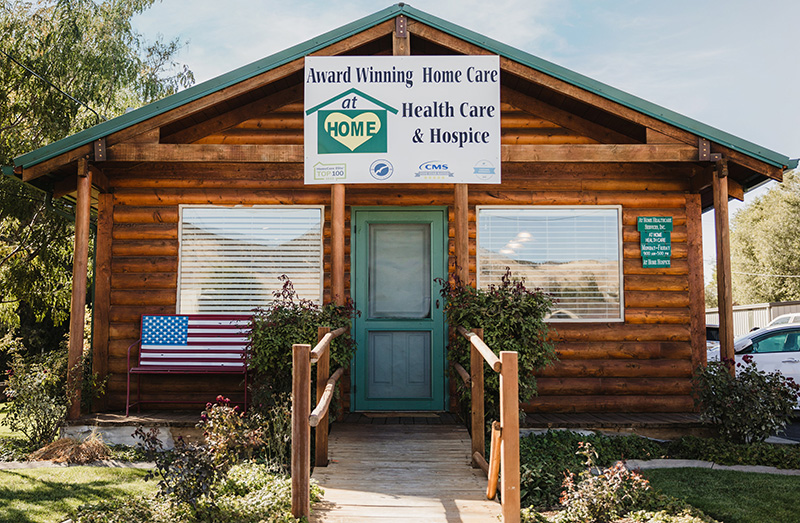 At-Home Health Care and Hospice was established in 1997 by Vicki Gurney, R.N. Home health care is an excellent and cost-effective alternative to institutional care, providing patients a way to recover in a familiar environment surrounded by their loved ones and treasured possessions.
At-Home Health Care Agency offers comprehensive home care from the most basic assistance with daily living to sophisticated high-tech medical treatment and hospice care. Our services are provided by skilled professionals under the direction of the patient physician.  Our employees and volunteers devote not only their time and expertise, but their love, care and understanding, all of which have made a significant difference to the lives of their patients.
Finding the home health care agency best suited for you is time well spent. If your doctor suggests that you need home health care, you may choose an agency. Your choice should be honored by your doctor, hospital discharge planner, or other referring agency.
In order to remain in compliance with the Medicare regulations regarding patient choice, it is important for doctors to turn to the patient or their representative and encourage them to make an independent decision as to the desired provider. When any dispute arises regarding choice of agencies, the patient ALWAYS makes the final decision.
Quality of care should be a priority for choosing home health care. At-Home Health Care has been included in the HomeCare Elite. The HomeCare Elite is a compilation of the most successful home care providers in the United States. This market-leading review names the top 25% of agencies based on performance measures. This year those measures include quality of care, quality improvement, patient experience, process measure implementation, and financial management. The HomeCare Elite also recognizes the Top 500 providers nationwide. At-Home Health Care was included in this prestigious group.
At-Home Health Care has also been a recipient of the HealthInsight Quality Award. The HealthInsight Quality Award program recognizes home health agencies for demonstrating high quality care and a commitment to excellence in health care.